The Beatles
Live At The Hollywood Bowl - Deluxe Edition
Purple Chick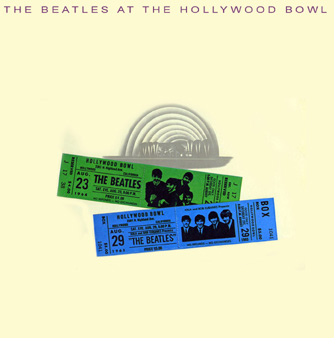 Click image for all artwork
DISC ONE
The Beatles At The Hollywood Bowl - The Album
1: Twist And Shout
2: She's A Woman
3: Dizzy Miss Lizzy
4: Ticket To Ride
5: Can't Buy Me Love
6: Things We Said Today
7: Roll Over Beethoven
8: Baby's In Black (bonus track)

9: Boys
10: A Hard Day's Night
11: Help!
12: All My Loving
13: She Loves You
14: Long Tall Sally
Track 8 is a 1996 mix edited into place. It appeared on the Real Love single.
Outtakes and alternate mixes:
15: Twist And Shout (stereo - DESS: The Beatles' Story)
16: All My Loving (Anthology DVD)
17: Twist And Shout (mono - DESS: The Beatles' Story)

18 August, 1964, Hollywood Bowl, Los Angeles, CA - time
DISC TWO - The Edits
(all from Hollywood Bowl Complete, YD)
18 August, 1964
1964 mono edit

1: Twist And Shout
2: You Can't Do That
3: All My Loving
4: She Loves You
5: Things We Said Today
6: Roll Over Beethoven
7: Can't Buy Me Love
8: If I Fell
9: I Want To Hold Your Hand
10: Boys
11: A Hard Day's Night
12: Long Tall Sally

30 August, 1965
1965(?) stereo edit

13: Twist And Shout
14: She's A Woman
15: I Feel Fine
16: Dizzy Miss Lizzy
17: Ticket To Ride
18: Everybody's Trying To Be My Baby
19: Can't Buy Me Love
20: Baby's In Black
21: I Wanna Be Your Man
22: A Hard Day's Night
23: Help!
24: I'm Down
This set compiles the various Hollywood Bowl mixes and edits in one place. However, these two discs do not include the unedited original recordings - we'll save these for a Purple Chick live compendium.
Instead, Disc One presents the 1977 LP mix (with a 1996 mix edited in at the side flip for maximum continuity) while Disc Two presents vintage mixes and edits of the 1964 (mono) and 1965 (stereo) shows. [OK, 1965 might not be a vintage mix, but it's a different mix/edit from somewhere.]
Don't let the "Hollywood Bowl Complete" source designation fool you - these are not straight copies of the Yellow Dog release. That CD, especially the 1964 show, sounds rather flat, so we used our proprietary equalization process (first introduced to create the "Revolution" composites on The Beatles Deluxe vol. 6) to make these tapes sound exactly like the vibrant released version. We think it's a nice improvement.
As always, Purple Chick discs are fan created and NEVER FOR SALE.